CUSTOM CAT PORTRAITS FROM PHOTOS
Pick your kitty's most special photo and turn it into hand-drawn custom cat painting!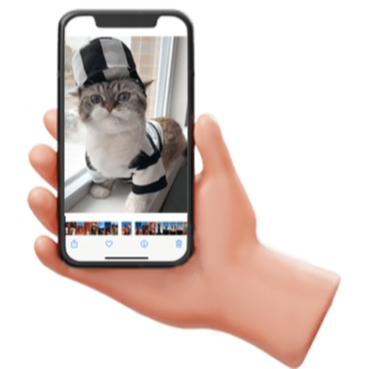 Customers love our cat portraits from pictures
Our customers value all the effort and energy our talented artists commit to their custom cat paintings
Excellent Customer Reviews
Wonderful painting
P2p has a good service and affordable prices. Loved the resu...
Gallery
In our colorful gallery, we store a diverse range of personalized individual portraits
HOW IT WORKS?
Follow simple, three steps to order your precious custom painting from a photo...
Start your order, upload a photo, select theme & medium, and pay only 20% of the full amount, approve your painting and receive your precious artwork
Turn Cat Photo Into Canvas Art
Are you looking for the most emotional and memorable ways to turn your cat's photos into custom paintings? Then, it's time to get a 100% hand-painted cat portrait that will last a lifetime! Our gifted artists will do their best to personalize your cat portrait based on your specific needs! So, get ready to order your custom cat portrait as soon as possible!
Excellent Customer Reviews
124
PROFESSIONAL
PAINTERS
worldwide are ready to paint your photo
Our talented painters come from various corners of the world. They use their cultural insights to turn your picture to painting on canvas.
No wonder why working with a team from different time zones is an honor for us!
Meet
Kelly
A self-taught portrait painter from Jersey City, NJ, Kelly's works stand out for their complexity and dynamism. Even though she's a mixed-media artist, in recent years she's been focused on the acrylic medium. As she says, she's always ready to consider customers' feedback in her drawings as it gives her a chance to grow.
Make Your Cat Photos Alive
Have you ever wondered how you could express your love for your kitty in the most affectionate way?
You're just a few clicks away from turning your cat's unique photo into a custom painting to cherish precious moments forever!
SWIPE
Enjoy the painting reveal process..
Exceptional Memory!
I bought this commission for my son, our house had been burnt 10 years ago and all pictures of ourselves had been burnt as well. So, it is unbelievable what photo2painting's artist has done - he's created the exact copy of the only childhood photograph of my son (which I had in old iPad). This painting is truly amazing with so much detail and personality. This was the best gift I could have ever given him. Absolutely beautiful! Highly recommend! Very heartfelt gift. We can pass down for generations!
Tears of happiness!
Photo2Painting and its artists are amazing! My Grandpa passed away right before I graduated from university. He was granma's best friend and we were very close. He has been gone for 10 years this year. It's been hard on my grandma this year and I wanted to give her something special for Christmas. I had an oil painting of my grandpa and her.Her reaction spoke volumes! She loved it so much! She was crying and I was crying! It was the most special moment to get to share with her! Very positive feedback from me!
100% Hand-Painted by Experienced Artists
FREE Online Proofing
Rated 4.9/5 By Customers
Satisfaction Guaranteed or Your Money Back
FREE Shipping
Excellent Customer Service Experience
Why You Should Get Custom Cat Portraits & 5 Tips To Choose An Ideal Painting Company
Are you looking for reasons why you should order custom cat paintings? Well, if you aren't yet, chances are that you will be soon!
It's nothing surprising that cat owners have tons of pictures of their cute little pets on their smartphones, but haven't you felt that you needed something else, something more special, to make your kitty feel appreciated?
If you have, you should know that turning the most emotional photo of your cat into a custom cat painting portrait is the best way to preserve unique memories for a lifetime! But there's much more you need to know about how valuable custom cat paintings can be for any pet owner!
So, let's explore what's so special about cat portraits from photos and how to choose the right painting company for this special mission!
5 reasons to order custom cat portraits from photos
To look back on emotional memories

 If you have a cat, chances are high that you have kept track of his or her life since childhood. But what if you have some emotional memories you'd love to keep with you all the time?For instance, you might want to look back on the memory of when they learned some tricks or started responding to their name. Whatever your emotional memory is, if you're looking for ways to keep it, you should consider ordering a custom cat drawing. That way, you will keep your memories for so long.

To surprise your beloved people with unique gifts

 A lot of people have trouble finding a unique gift to surprise their loved ones on special occasions. But based on the psychology of gift-giving, personalized presents are always the best! That's another reason why you should purchase cat portraits from photos. If the person you want to surprise has a cat, there's no doubt that your customized gift of their pet will be the best possible thing anyone could ever get!

To decorate your interior with stylish custom cat art

 Another great reason why you should think about getting custom cat paintings is that they will help you decorate your interior in the most stylish way. Perhaps unsurprisingly, custom paintings are getting more and more trendy these days. What's more, our painters always make sure that your paintings are drawn in the most delicate way. Thus, after receiving your order, you'll be able to fill your house not only with emotions and joy but with decent artwork that will become an integral part of your home interior.

To keep your cat with you forever

 Do you notice that you have an unusually close relationship with your cat? If so, then ordering a custom cat painting is probably one of the best ways to get even closer to your beloved pet. Now you might wonder how this works. The truth is that having a personalized canvas of your cat on the wall will help you keep the memory of your pet for a lifetime. Our custom paintings are more durable than you can imagine, which means that they will stay with you forever!

To give back all the love to your cat

 Having a cat at home is one of the main sources of happiness and comfort. And if you've ever had a cat at home, you probably agree! The reason is that our beloved pets always try to make us feel loved and cared for. And you also want to return all the kindness they have offered you, don't they? To be honest, one of the main reasons our customers enjoy ordering custom cat drawings not once, but several times is to express their love for their pets!
How to get perfect cat portraits from photos?
You might think that getting perfect paintings of your pets is nothing complicated. But actually, when it comes to the quality of custom cat art, there are some important things you should keep in mind.
What we mean here is that, initially, you need to choose the right picture of your cat. And since you probably have thousands of cute and lovely pictures of your beloved kitten, it might not be easy to choose the best one. But don't forget that the perfect picture is the one where the details on your cat's face are focused and outlined. Still, it doesn't have to be a professional photo.
Pay attention to the size of the painting too. For example, if you want a custom cat portrait with your cat's entire figure, larger canvas sizes like 30″ x 40″ or 36″ x 48″ may be required; however, if you prefer a smaller portrait with fewer details, even a small canvas like 8″ x 10″ can suffice.
And the last thing that directly determines the quality of your painting is the reliability of the company. In order to make sure you understand how to choose the right type of company, we'll provide some important tips below.
Tips to choose the best cat painting company
Even though custom cat portraits are considered one of the best types of presents you can possibly think of, not all painting companies are equally authoritative. That's why you should know how to choose the best painting companies that are available on the market. So, here are some tips for choosing the right company:
Social proof should be transparent and available 

 – Does the company give you an opportunity to take a look at their customer reviews? Do they have social proof on social media? If so, take a look at the customer reviews to see how satisfied they are with the offered service. 
For instance, our customers enjoy sharing their sincere feedback with us. They always take time to express gratitude after receiving their stunning custom cat painting portrait.

Paintings should be created by professional artists

 – Generally, reliable painting companies have a professional team of experienced artists that work with various themes and mediums. Therefore, if a company is great enough, you should have a chance to take a look at their painters, read their short bios, and see their experience to choose the most suitable artists based on your needs.

You should have a chance to choose from various mediums

 – It is unnecessary to say that authoritative companies offer their customers as diverse services as possible. This means that even if they offer your preferred medium, don't forget to check if they have all the leading art mediums on their list. And if a company has charcoal, pencil, watercolor, oil, acrylic, and maybe even other mediums available for cat portraits custom made, you can just go for it!

A company should offer certain criteria for prices

 – Did you already check the price for your custom cat portrait? If so, chances are that you're aware of the prices the company offers. Keep in mind that trustworthy painting companies always have certain criteria to calculate the price of their service. Therefore, instead of having a fixed price for all types of paintings, the price should vary based on the complexity, size, or medium of your painting. If that's the case, then you can consider the company a reliable one.
Pros & Cons of Custom Cat Paintings
By now, you should have a clear idea why more and more people are choosing custom cat portraits with us. But before ordering your painting, we want to make sure that you understand all the advantages and disadvantages that personalized cat drawings might have. So, let's get started!
Pros
Our artists will create your custom cat painting based on your specific requirements and needs. For instance, we can add some details like your cat's name to the drawing. This means that you'll get an absolutely personalized painting.
Cat portraits custom are completely hand-drawn by professional artists with years of proven experience in the photo-painting field. Therefore, instead of just digitizing your picture, just like many companies do, you can work with real, talented artists with us.
Custom cat art is very easy to order. You just need to undergo a quick and simple process, and after a few minutes, your order will be delivered to our talented artists.
Cons
Based on which medium you choose, your order might take more time than expected. The reason is that different art mediums require different amounts of time. Thus, if you order a custom cat drawing in oil or charcoal, it might need more time to dry.
If the picture of your cat is too detailed or complex, all the details might not be fitted in your custom cat portraits. However, there are different sizes of canvas available, and if you want our artists to include as many details as possible, you should choose the larger sizes.
Cat FAQ
Roughly, the price of a custom cat painting portrait varies from $169 to $649. But to be more precise, we calculate the price of our service based on three main factors:
The number of cats and individuals included in your painting
The size of the canvas
The type and size of the frame (if included)
However, if you want to find out the estimated price before ordering your personalized painting, you can visit our Pricing & Timing page.
Of course, you will! Our customers always have the final say in the process for one simple reason: meeting your needs is our priority! Once your custom cat portrait is created by one of our gifted artists, you can easily preview it. And what's more, before you pay the remaining amount, we will ask you to approve the painting, meaning that you'll be sure that you're getting what you need!
Ordering custom cat paintings is a very quick and easy process. All you need to do is to follow these four steps, and afterward, you can sit back and relax while you wait for your stunning artwork.
Click "Get Started", pick your favorite medium, choose a cat theme, and upload a picture of your cat. Then you'll have to pay a 20% deposit of the total price (see HOW IT WORKS).
Wait for our team to edit your photo, and then your picture will be delivered to our talented painters. They'll soon turn it into a personalized portrait of your cat.
Review your custom cat painting, approve it if you like, and pay the remaining amount.
Finally, we'll ship your order and get it to you as soon as we can.
In order to create the most realistic portrait of your cat, our professional artists use the picture uploaded by you to turn it into a personalized cat artwork. The process of creating realistic cat portraits from photos starts right after you place your order.
Firstly, our artist delineates your cat's picture using the thinnest brush/pencil.
Then, they outline the figure of your cat.
Lastly, they fill out the basic zones in your preferred medium and add details until they develop the entire artwork.