CUSTOM FAMILY PORTRAIT TO CELEBRATE YOUR DEEP EMOTIONAL BOND
Get your family members together and turn your collective photo into a personalized family portrait to preserve your precious memories!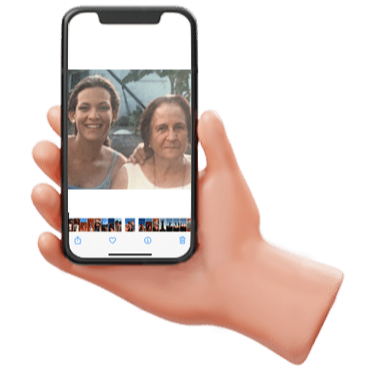 Customers love our custom family portraits
Our clients never forget to leave feedback once they get their hand-painted portraits of family!
Excellent Customer Reviews
Wonderful painting
P2p has a good service and affordable prices. Loved the resu...
Gallery
In our colorful gallery, we store a diverse range of personalized individual portraits
HOW IT WORKS?
Follow simple, three steps to order your precious custom painting from a photo...
Start your order, upload a photo, select theme & medium, and pay only 20% of the full amount, approve your painting and receive your precious artwork
Turn Family Photo Into Canvas Art
Are you looking for reasons to gather your family members and celebrate a special occasion? Then, taking a family photograph and turning it into a 100% hand-painted portrait might be a great idea! Just order your custom family portrait drawing and capture the most emotional memories.
Excellent Customer Reviews
124
PROFESSIONAL
PAINTERS
worldwide are ready to paint your photo
Our talented painters come from various corners of the world. They use their cultural insights to turn your picture to painting on canvas.
No wonder why working with a team from different time zones is an honor for us!
Meet
Kelly
A self-taught portrait painter from Jersey City, NJ, Kelly's works stand out for their complexity and dynamism. Even though she's a mixed-media artist, in recent years she's been focused on the acrylic medium. As she says, she's always ready to consider customers' feedback in her drawings as it gives her a chance to grow.
Give Life to Your Family Photos
Do you wonder how you can preserve the special moments from your family life forever?
If so, don't wait any longer! Pick the most precious photos from your family album and turn them into a personalized family painting!
SWIPE
Enjoy the painting reveal process..
Exceptional Memory!
I bought this commission for my son, our house had been burnt 10 years ago and all pictures of ourselves had been burnt as well. So, it is unbelievable what photo2painting's artist has done - he's created the exact copy of the only childhood photograph of my son (which I had in old iPad). This painting is truly amazing with so much detail and personality. This was the best gift I could have ever given him. Absolutely beautiful! Highly recommend! Very heartfelt gift. We can pass down for generations!
Tears of happiness!
Photo2Painting and its artists are amazing! My Grandpa passed away right before I graduated from university. He was granma's best friend and we were very close. He has been gone for 10 years this year. It's been hard on my grandma this year and I wanted to give her something special for Christmas. I had an oil painting of my grandpa and her.Her reaction spoke volumes! She loved it so much! She was crying and I was crying! It was the most special moment to get to share with her! Very positive feedback from me!
100% Hand-Painted by Experienced Artists
FREE Online Proofing
Rated 4.9/5 By Customers
Satisfaction Guaranteed or Your Money Back
FREE Shipping
Excellent Customer Service Experience
Why You Should Order a Custom Family Portrait & How To Pick The Most Reliable Company
What do you think of the idea of celebrating special occasions in your family life with a custom family portrait?
Believe it or not, a lot of people think that family photography is a great way to bring your family members together and strengthen your family bond. But what if you prefer giving life to an old family photograph that has been long forgotten? What if you are looking for ways to revive your photo and turn it into a painted family portrait?
Then, you should definitely think about turning your family photo into a custom painting! The simple truth is that personalized family art is a  great way to bring back your memories and celebrate the most special moments of your life together with your loved ones!
Let's see what makes a custom painted family portrait so special and how to find the right painting company for your special order!
3 key reasons to order a custom family portrait
No one doubts the importance of family members spending as much time together as possible. But the fact that the custom painting of family can strengthen your family bond isn't the only reason why you should think about ordering it. Let's discuss the 3 principal reasons why ordering a custom family portrait could be the right decision for your family.
To personalize your home decor

 Are you looking for ways to turn your home into a warmer and more comfortable place than ever before? If so, keep in mind that custom family portrait painting is a great way to personalize your home decor and fill your house with a unique decoration.Just find the proper place for your beautiful family print, pick the medium that is most suitable for your home interior, and enjoy this personal addition to your home. As a result, we bet that you'll feel content every time you look at your 100% hand-painted family portrait!

It's a perfect gift for special occasions

 Have you just realized that an important anniversary for one of your family members is approaching? Or do you want to make a special gift for your loved ones' birthdays? Whether you're looking for an unforgettable present to celebrate special occasions such as birthdays or housewarmings, or it's just a random family gathering, ordering a custom family portrait will definitely surprise everyone!What's more, based on our customers' opinions, custom paintings from photos are the most thoughtful gifts regardless of the occasion. So, choose the most emotional picture from your family album and let our artists turn it into a custom painting of family members.

To preserve heartfelt memories for a lifetime

 One thing's for sure – the main reason why we enjoy taking pictures together with our family members is to create memories. Why? Because as time passes, your family members grow up or grow old, but the pictures remain the same. But a random photo, taken by your phone won't probably last for long because we take thousands of pictures with our smartphones each year.What about personalized paintings of the family? Well, if you choose the right company that will paint family portraits from pictures with high-quality materials, chances are that at least one memory of your family members together will last forever. That's another reason why you should order custom paintings of your family members.
How do we make hand-painted family portraits?
A lot of people wonder how it's possible to turn random photographs into hand-painted masterpieces. Even though the process of creating a family painting from photo isn't easy, it's not a big deal for professional artists who use the proper materials and put in enough effort.
In fact, the process of creating customized family portraits starts with our customers' choice. This means that first, you need to choose the right picture of your family and upload it on the website to let artists turn it into artwork. Keep in mind that your photo doesn't have to be taken by a professional, but the better the quality, the better the chance to receive an outstanding piece of art.
Then, you need to choose an art medium such as charcoal,pencil, or watercolor for your future painting. For instance, family portrait oil painting is one of the most popular choices for larger portraits because it allows artists to highlight all the details. Once you choose the size of the painting too, you can start creating your artwork.
Initially, our artists delineate your family photo using the thinnest brush or pencil. After that, they outline the figures of your family members and fill out the basic zones in your preferred medium. The last step is to add some details until the artist develops the entire painting.
Tips to choose the best family portrait art companies
The customer reviews should be available for everyone 

 –Customer reviews is indeed the first thing you should keep an eye on while choosing a painting company. The reason is that happy customers always take the time to leave honest feedback about their emotions after receiving the painting. Similarly, it's a great way to find out if there are too many unsatisfied customers. So, before you choose the painting company, make sure that they provide transparent social proof of their performance.

You should have the chance to choose from diverse art mediums

 – Imagine that you want to order an oil painting family portrait, but the company offers drawings only in pencil or charcoal. Chances are that you'd be disappointed, right? That's why you should check the available art mediums on the website. Don't forget that reliable painting companies understand the diverse needs of their customers, which is why they always provide up to 5 popular art mediums.

The paintings have to be made by experienced artists

 – Collaborating with a team of professional painters is another great advantage of the photo-painting company. Why? Because turning photos into impressive paintings of family portraits isn't an easy task. Therefore, an artist who will work on your order should have years of proven experience in the field. So, make sure that your painting is created by a professional.

You should be able to preview your personalized family portrait

 – If a painting company doesn't allow its customers to preview the custom painting before sending it to them, just move to another one. The reason is simple: customers' opinions should be a priority! That said, if the panning company allows you to preview your personalized portrait and ask for some changes, consider their service trustworthy. Why? Because it means that you will be the one who has the final say in the process!
Pros & Cons of Personalized Family Art
Before you finally take a step forward and turn your family picture into personalized artwork, you should understand the benefits and drawbacks of creating a custom family portrait from a photo. Let's get started!
Pros
At first glance, your painting might look the same way as your picture does. But actually, our gifted artists will add new details and personalize the painting to turn it into something unique.
Instead of using various software tools like many companies, our customized portraits of family members are completely hand-drawn by experienced artists.
The process of ordering custom family portraits is very easy. In fact, you just need a few clicks and up to 5 minutes and that's it! Your order will be delivered to professional painters.
Cons
Sometimes orders take a bit longer, especially if the artists experienced in creating family portraits are busy. However, there's nothing to worry about because, in a few days, they will start working on your family portrait painting from photo.
If your picture contains too many details and you choose a medium such as charcoal or oil, it might be ratherdifficult to fit in all the details. In this case, we'll contact you, and our artists will do their best to meet all of your needs.
Family FAQ
The cost of family portraits from pictures depends on three major factors:
The number of family members in the painting
The size of the canvas
The type and size of the frame (if included)
Usually, the prices vary from $169 to $649. However, if you want to calculate the exact price before ordering the hand painted family portrait, you can take a look at our Pricing & Timing page to find out the approximate cost of your painting.
Based on our customers' preferences, the most popular art mediums for family paintings tend to be pencil, charcoal, and acrylics. However, people who use our service to celebrate special anniversaries often order family portrait oil paintings too. Still, if your favorite art medium isn't on the list, don't order a family oil painting before thinking twice. Just check out the medium gallery and find the medium that suits your needs the most.
If you check out our gallery of custom family portraits, you can easily find professional artists that specialize in turning family photos into paintings of different mediums. Our talented artists have spent years in the painting field to refine their skills and create outstanding artworks. As a result, regardless of which artist paints your family portraits, we promise you won't be disappointed. 
The typical canvas sizes for our family portraits depend on the art medium. For instance, customers usually order an oil painting of family in larger canvas sizes such as 36 x 48 or 48 x 72 inches. But if you prefer mediums such as pencil or watercolor, smaller sizes such as 20 x 24 or 24 x 30 inches may be more suitable.  Here are the typical canvas sizes for a custom family portrait:
8 x 10 inches
11 x 14 inches
12 x 16 inches
20 x 24 inches
24 x 30 inches
24 x 36 inches
30 x 40 inches
36 x 48 inches
48 x 72 inches