50th Birthday Gifts for Husband in 2022: 15 Must-Have Presents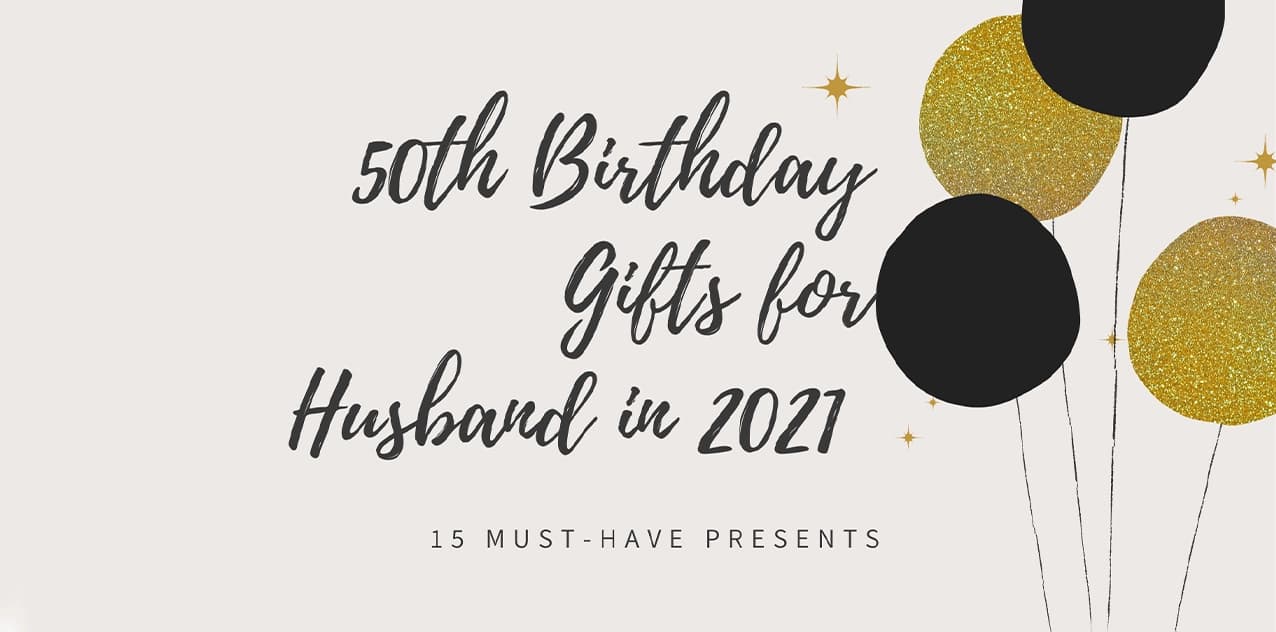 Choosing a proper gift for a husband isn't easy. Especially if he's turning 50 day by day. Wives always try to pick unique 50th birthday gifts for husbands that they'll never forget. However, when it comes to generating ideas, you may discover that making the right choice isn't so simple after all. Still, half a milestone is a birthday that deserves a special celebration!
The fact that he's turning 50 doesn't mean he won't like funny, personalized presents from his beloved wife. But you've probably already given him most things related to his hobbies and interests, right? That's why your gifts for your husband's 50th birthday must be the most thoughtful things you've ever got him!
Remember that taking care of your loved one is the best way to strengthen your relationship. And spending enough time and effort on his 50th birthday gift is indeed a clear sign that you care about him. So, take a look at our list of the best 50th gift ideas for your husband, and don't forget to consider our gift-giving tips along the way.
How to Choose Unique 50th Birthday Gifts for Husband?
Wives often try to impress their husbands with luxurious presents that cost a fortune. But did you know that men get stressed when their wives make or spend more money than they do? That's what the research suggests. Of course, it doesn't mean that you should not spend any money on your husband's 50th milestone at all. Instead, you must focus on thoughtful presents and not on things that don't make sense to him.
Sounds complicated? Fortunately, there's nothing you should worry about because you're about to read our tips about choosing the best 50th birthday gifts for husband.
Be practical – You want your husband to remember your gift for a lifetime, right? That's why you need to be practical. Try to choose practical presents that last a long time.
Personalize your gift – Every wife wants to express their emotions on their husband's 50th birthday. Personalizing your present will help you add extra sentiments to his special day. That way, he might forget some things from this day but he will never forget how loved he felt!
Don't forget past gifts – Try to avoid things that you have chosen not only in the past few years but long before that too. Why? Because gifts for husband 50th birthday need to be something he's never even thought about!
Pay attention to his needs – What does your husband need? Maybe he dreams about particular things and wishes that someone would someday get him these things. Try to be attentive and consider his interests.
Wrap up your gift – It's not only about the item. The real point of gift-giving is to show her husband that you care. And finding the right package is the best way to demonstrate you're ready to spend time to please him.
Top 15 50th Birthday Gifts for Husband in 2021
Since you're already aware of the basic secrets of gift-giving,it's time to choose the right one! Below, we'll review the most popular husband 50th birthday gift ideas in 2021 and sort them out by categories. Remember that whether you pick your gift from the luxury, personalized, self-care, or fitness category, you must choose it from the heart.
Memorable 50th Birthday Gift Ideas for Husband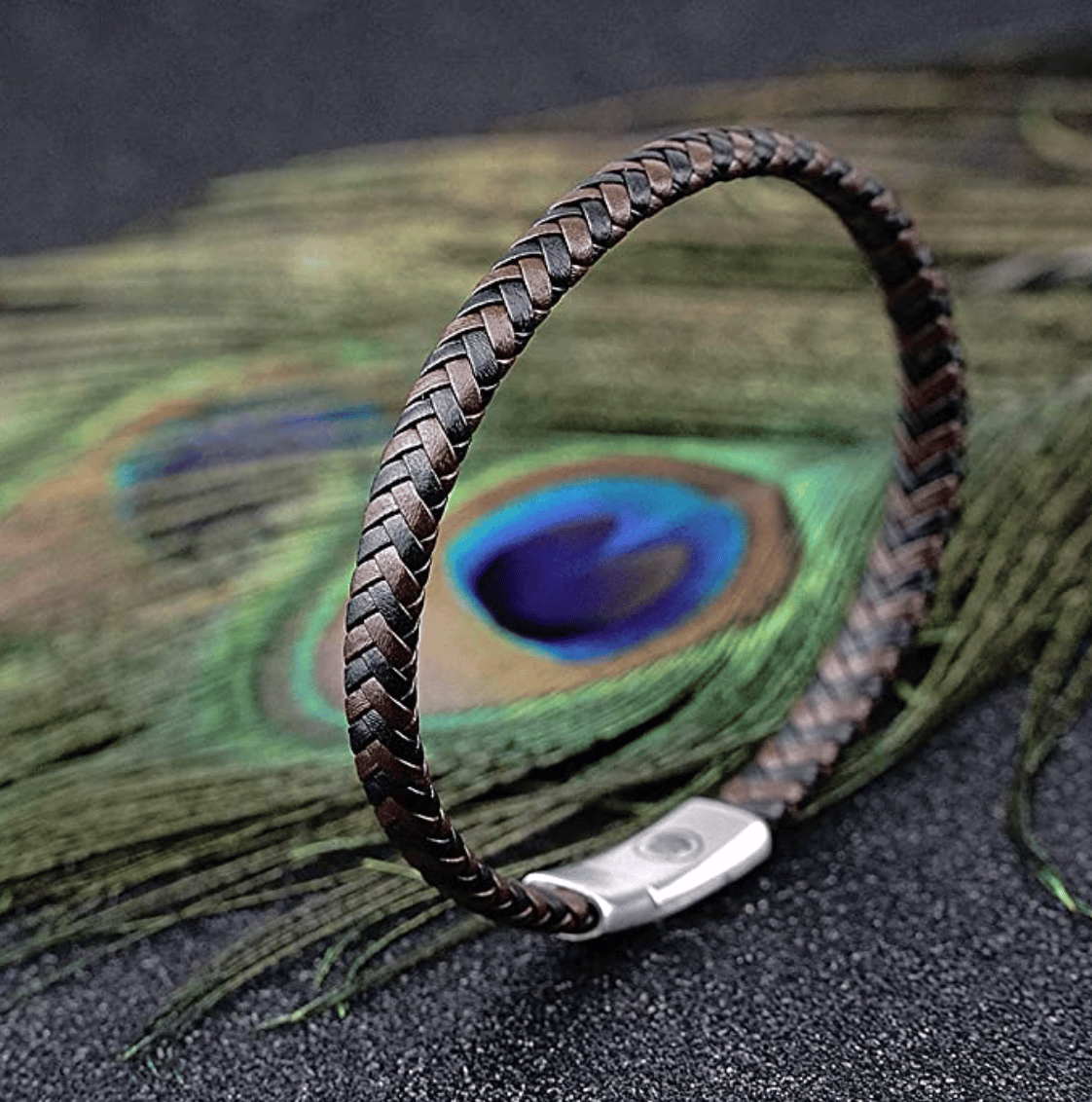 Are you among those people who believe that men don't like jewelry? You're probably not, if you understand your husband's nature. Why? Because it's a common stereotype. Actually, men do like jewelry and various kinds of accessories. Therefore, getting him this customized leather bracelet for his 50th birthday could be a great idea.
Personalized gifts are indeed the most unique 50th birthday gifts for husband nowadays. But this leather bracelet is even more special as it's completely handmade by Casisto. J professional craftsman. The bracelet is made of natural leather and lasts a long time. Most importantly, you can add your name, initials, or anything memorable to the bracelet. That way, you'll ensure your husband never forgets about this gift!
Cons
Customizing Takes Some Time
Not All Sizes Are Available
Pros
Exquisite Gift Box Included
Handy Customer's Service
Option To Customize The Bracelet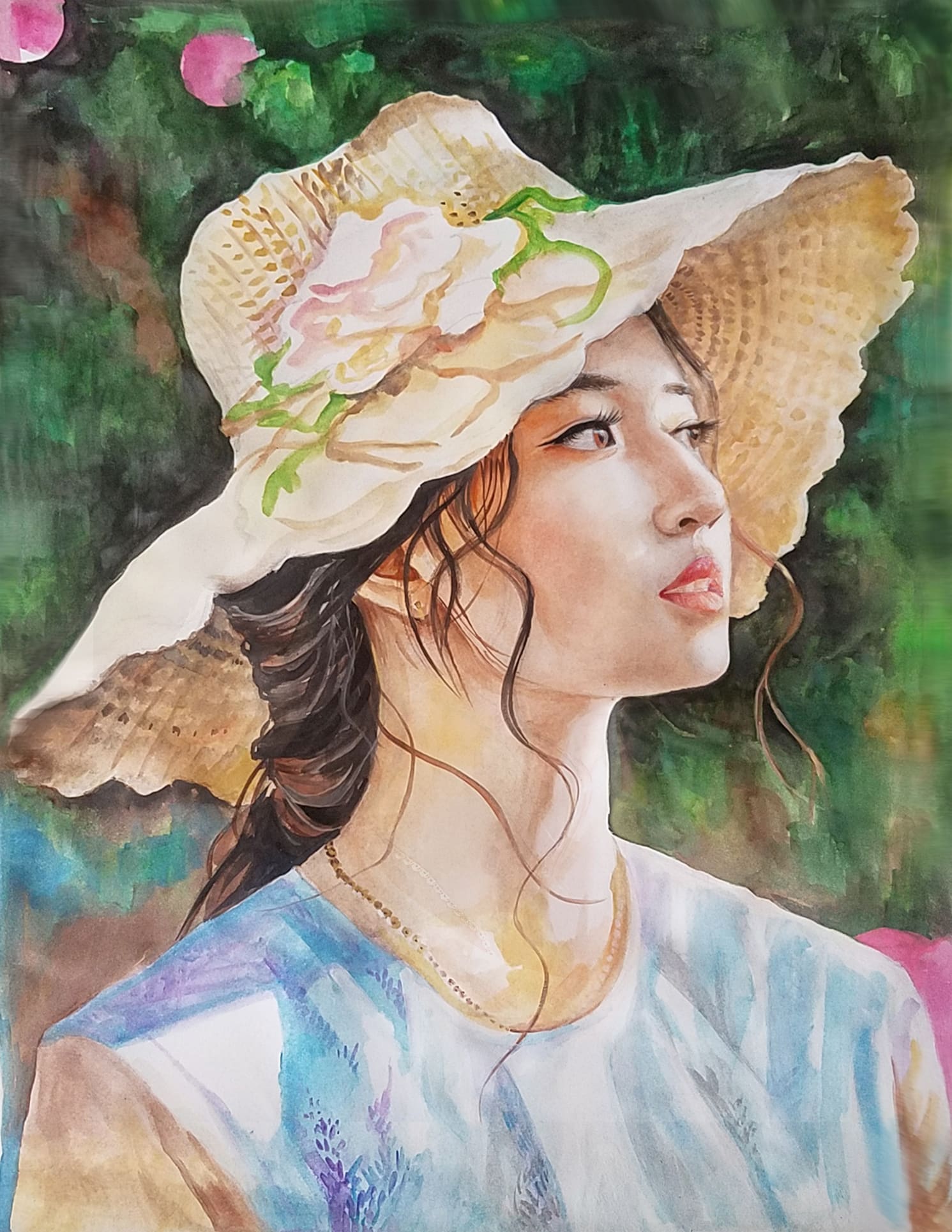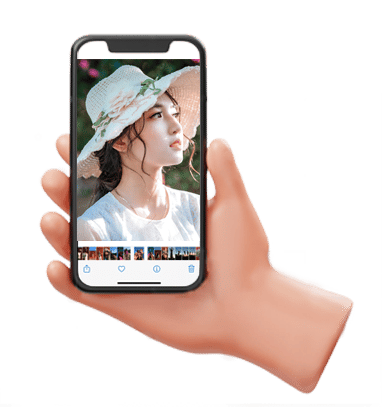 Does your husband enjoy art? Even if he doesn't, chances are high he'll adore this customized individual portrait. Based on our customers' reviews, individual portraits are some of the most memorable gifts either on birthdays, on wedding anniversaries, or on other occasions. As a result, we included this customized individual portrait on the list of the most special 50th birthday gift ideas for husband.
Each individual portrait is created by our team of professional artists based on your needs and preferences. All you need to do is to choose your favorite picture of your beloved husband and we'll quickly turn it into a painting. Keep in mind that it doesn't matter which kind of pictures are more suitable for you and your husbands' interior. We provide the options of various mediums such as oil, acrylic, color pencil, or charcoal paintings.

10% discount has been applied
20% Advance Payment only
Remaining balance to be paid after painting approval
Cons
Adding A Frame Requires An Additional Charge
Creating A Portrait Takes Some Time
Pros
Various Mediums Are Available
You Only Pay 20% In Advance
Free Shipping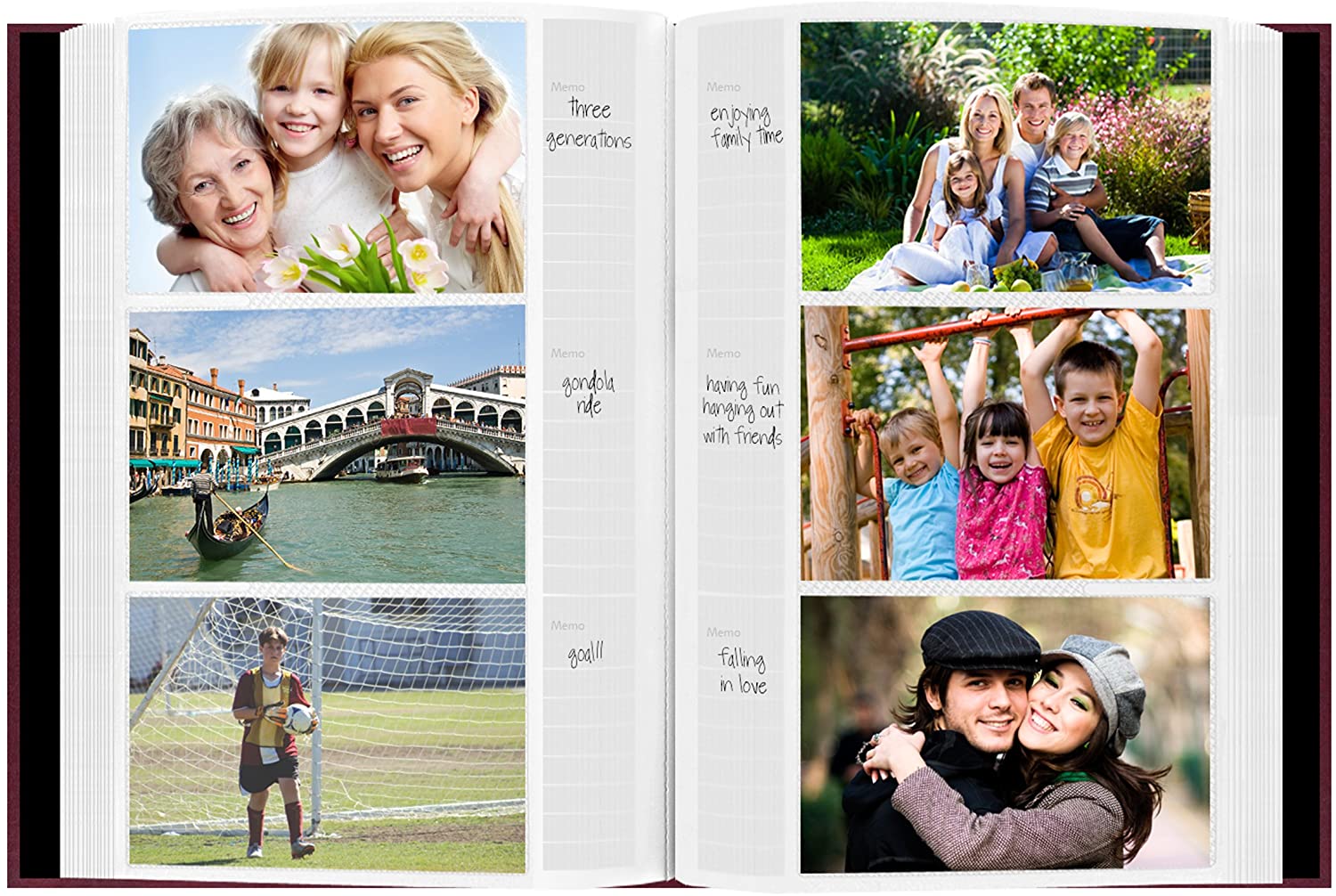 If you wonder why this leather bookbound is among the most memorable husband 50th birthday gift ideas, it's because of its main purpose. The leather bookbound is specially designed for those who want to keep the photos of their family close to themselves. It's a bi-directional photo album that comes in three different colors.
The album holds about 3000 photos up to 4×6. It's created completely from natural leather and gives you an opportunity to store your family photos in a conventional and safe place. The thing that makes the album special is its memo writing area. So, get your husband this leather bookbound, and don't forget to ask him to add his heartfelt descriptions below your mutual pictures.
Cons
Limited Shipping Area
The Restricted Size Of Photos
Pros
Holds Up To 300 Photos
Created With Natural Materials
Includes Politically Clear Pockets
Luxury Gifts for Husband 50th Birthday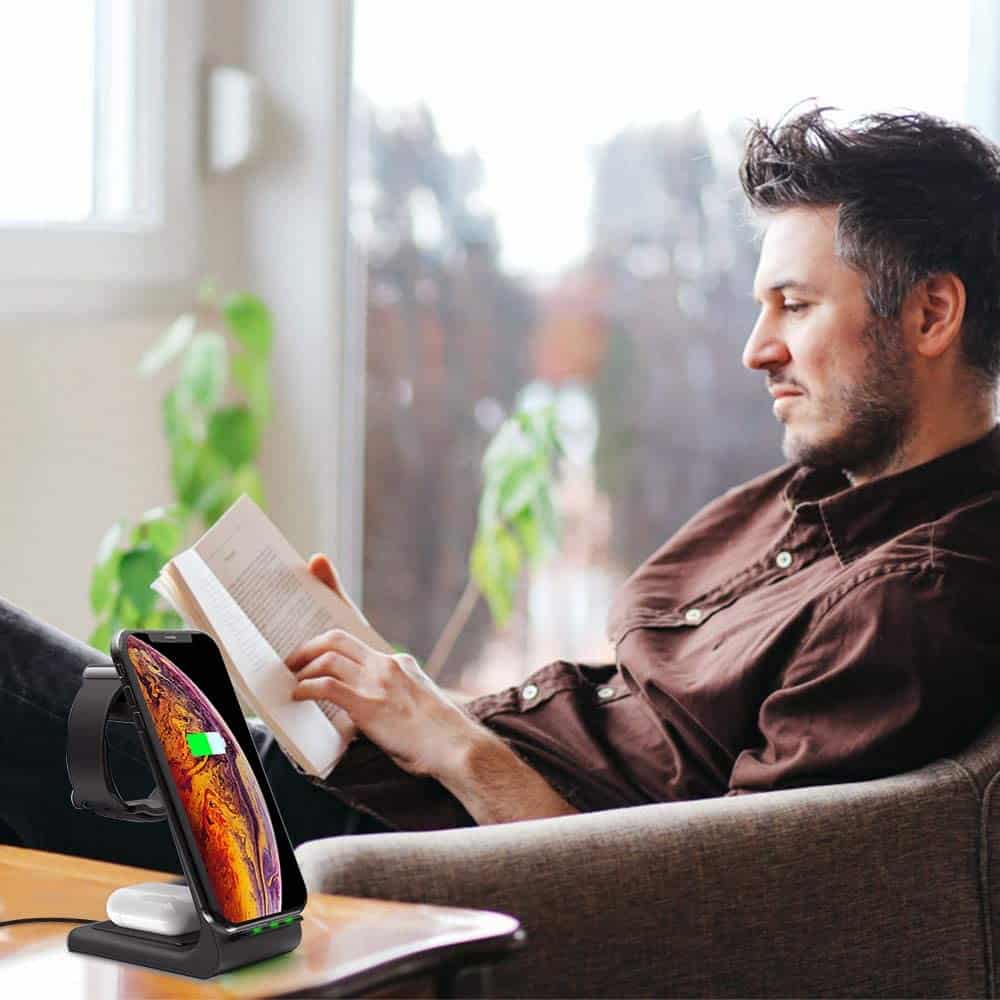 How many times does your husband charge his phone throughout the day? Getting him a wireless charger could help him transfer power to his phone whenever he wants and wherever he goes. Sounds convenient, right? Actually, its convenience is one of the main reasons why the wireless charger is a highly demanded electric accessory nowadays.
However, just a simple wireless charger doesn't sound like a unique 50th birthday gifts for husband. But if you get him a 3 in 1 Wireless Charger from Geekera, you'll definitely surprise your husband. The charger includes a smart light and smooth cover and is compatible with either Android or iOS devices.
Cons
It Can't Tolerate Magnetic Or Metal Attachments
Doesn't Work On IPhone 12 Mini And IWatch 1.
Pros
Universally Compatible
The Friendly Angle Of The Viewing
Charges Phones Either Vertically Or Horizontally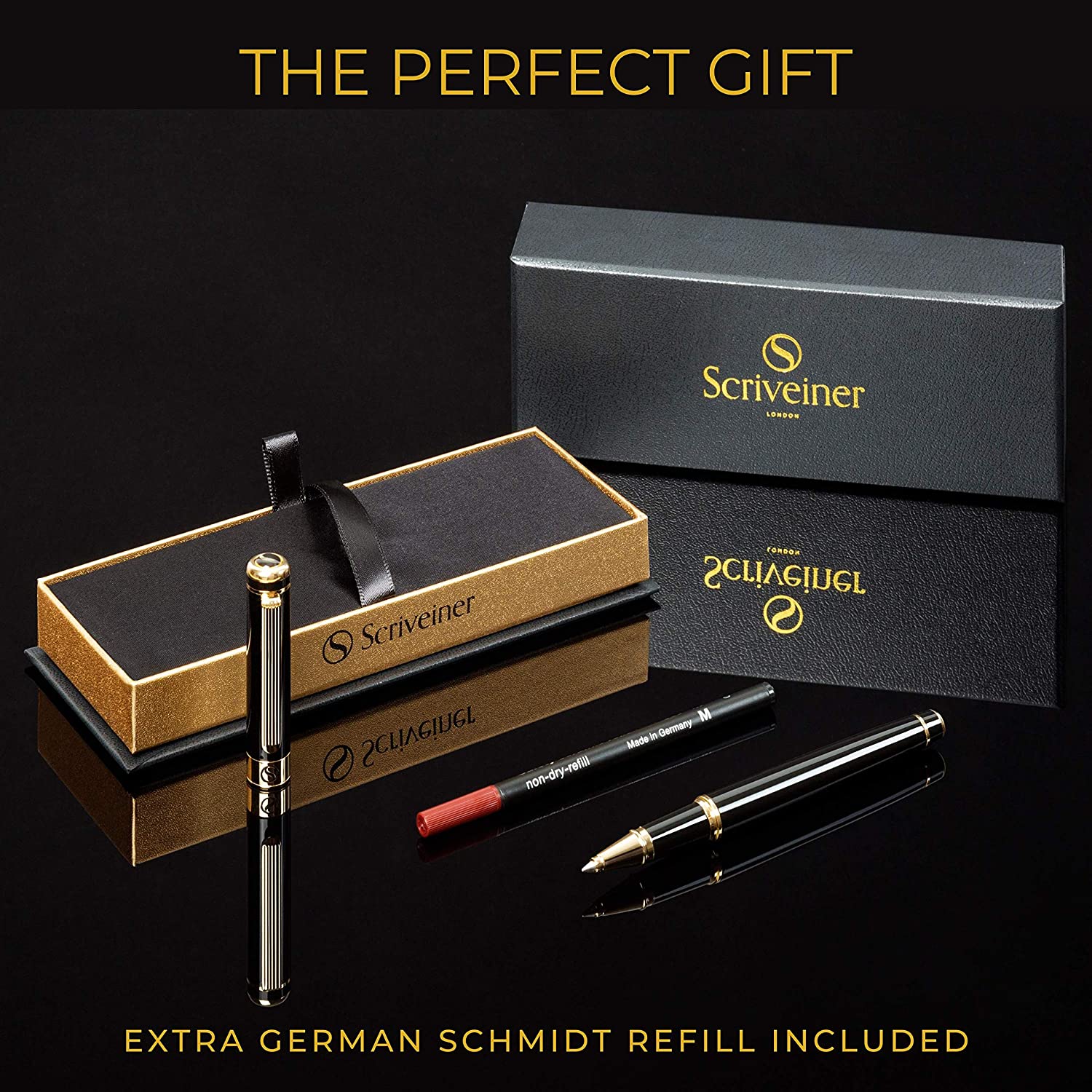 Luxury pens have always been considered great gifts for everyone, regardless of age or gender. Therefore, it's not a big surprise that this Lacquer Rollerball Pen is among the greatest ​​husband 50th birthday gift ideas in 2021. Despite the fact that luxury pens write better and give people a sense of purpose, they are also great for the environment. That's why you should explain the benefits of using a rollerball pen to your husband.
This stunning luxury rollerball pen by Scriveiner is created with 24 karat gold. It comes in a beautifully crafted presentation box which makes it ideal as a birthday present.  It's a pen that will make your husband stand out in all environments whether it's work, office, or home.
Cons
He Might Not Be Interested In Writing
Limited Choice Of Ink
Pros
Various Colors Available
Already Wrapped As A Gift
Guaranteed Refund In Case Of Shipping Problems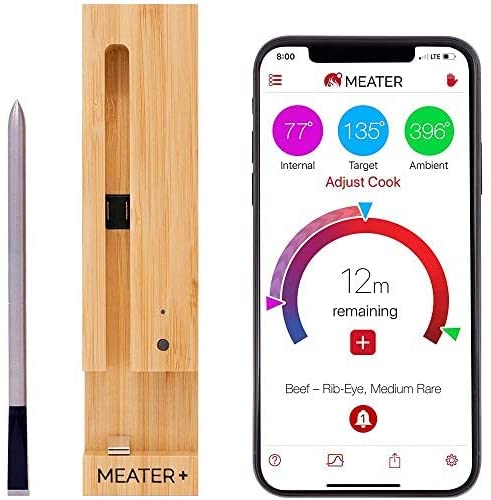 Did you know that cooking is one of the most common hobbies for modern husbands? If your husband adores trying new kitchen experiments, then this smart wireless meat thermometer is an ideal kitchen gadget for him. The device contains a Bluetooth repeater that extends up to 50 meters. Besides, it contains a sleek bamboo charging dock and attaches to any metallic surface.
So, if you notice that sometimes your husband serves a dry chicken instead of a perfectly roasted one, that kitchen hack will help him refine his cooking skills. But even if he's already an ideal cook, we bet this wireless meat thermometer from our list of 50th birthday gifts for husband will still make him happy.
Cons
Shipped In Limited Areas
Delivery Isn't Free
Pros
The Meater Estimates The Cooking Time
Special App Included For Receiving Alerts
Compatible With Phones, Tablets, Or Computers
Fitness 50th Birthday Gift Ideas for Husband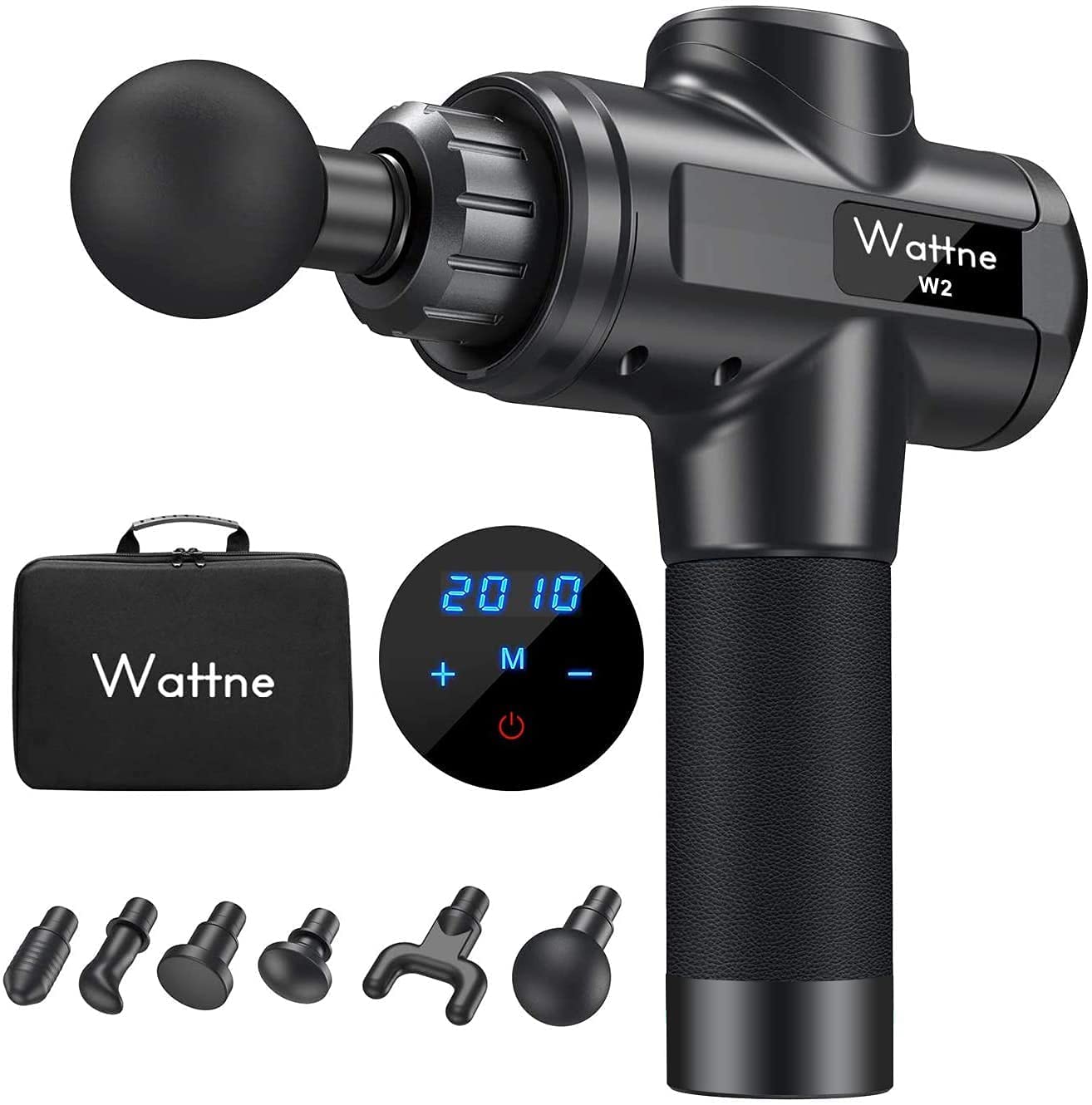 Every athlete needs to relieve muscle tension at some point in their lives. If fitness is your husband's hobby as well, think about getting him a message gun. This message gun from Wattne is indeed one of the best 50th birthday gifts for husband who adores daily exercise but suffers from muscle pain. Getting this gift will be a clear sign that you care about his physical and mental health.
The device increases circulation, relieves muscle stiffness and soreness, and improves the overall health of soft tissues. By using this gun every day for 15 minutes, your husband can promote a healthy and active lifestyle. The message gun includes six applications for full body massage and comes in a handy box.
Cons
A Bit Difficult Menu To Understand
The Sound Might Be Irritating
Pros
A Portable Case Makes It Easy To Carry
2600mA Battery Lasts For Long
Ideal For Relaxing Therapy After Workouts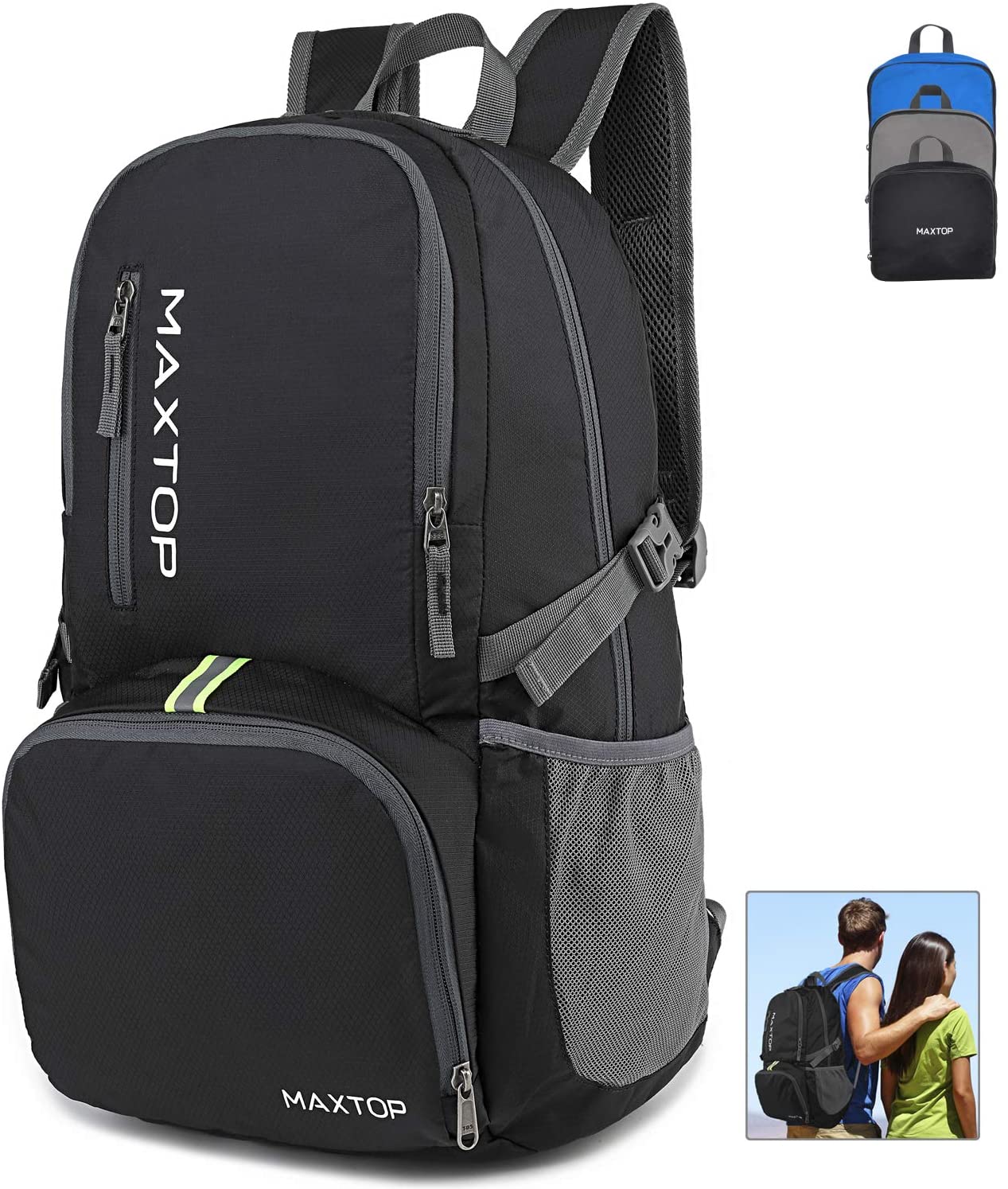 Fitness and travel lovers are always looking for a lightweight foldable backpack to make their journeys more convenient. If your husband enjoys camping or traveling as well, getting this foldable rucksack by Maxtop could be perfect among other fitness 50th birthday gifts for husband. First of all, it means you really care about his hobbies and interests. But also, having this back is actually very convenient.
The backpack is made from high-quality tear and water-resistant fabrics. It includes 13 different pockets, meaning your husband can store his clothes, a camera, a laptop, and even things like an umbrella. Even though it's ideal for day trips, your husband can also use this backpack for shopping, school, camping, or shipping.
Cons
Some Of The Colors Aren't Available Anymore
Too Small For Longer Trips
Pros
More Than 10 Pockets And Super-Wide Storage
Foldable Design
Various Sizes Available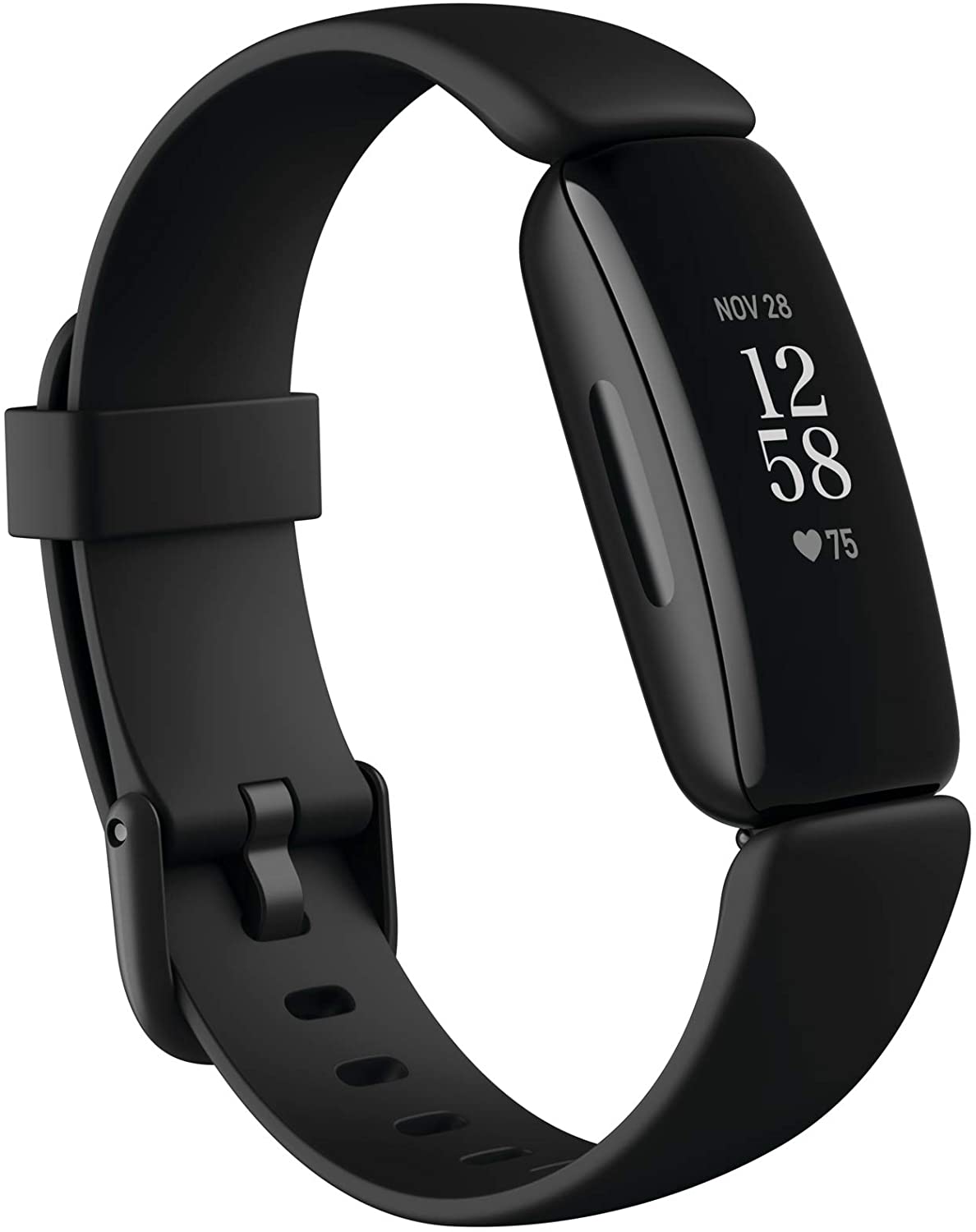 Every athlete is interested in the overall condition of their body before, after, or in the process of exercising. Therefore, getting a smart watch is another great option among unique 50th birthday gifts for husband who likes fitness. Chances are high that you won't resist the temptation and get one for yourself as well after your husband's 50th birthday passes.
This smart watch by FitBit comes in three different colors. It's compatible with either iOS or Android devices and supports multiple sports. As a result, your husband can use the smart watch while walking, jogging, running, climbing, or cycling. Besides, it easily operates with FitPro and other popular fitness applications.
Cons
Price Varies Based On The Colors
Not Compatible With Early Models Of Smartphones Or IPhones
Pros
Waterproof
Easy To Operate
Features Automatic Sleep Monitor
Self-care & Fashion 50th Birthday Gift Ideas for Husband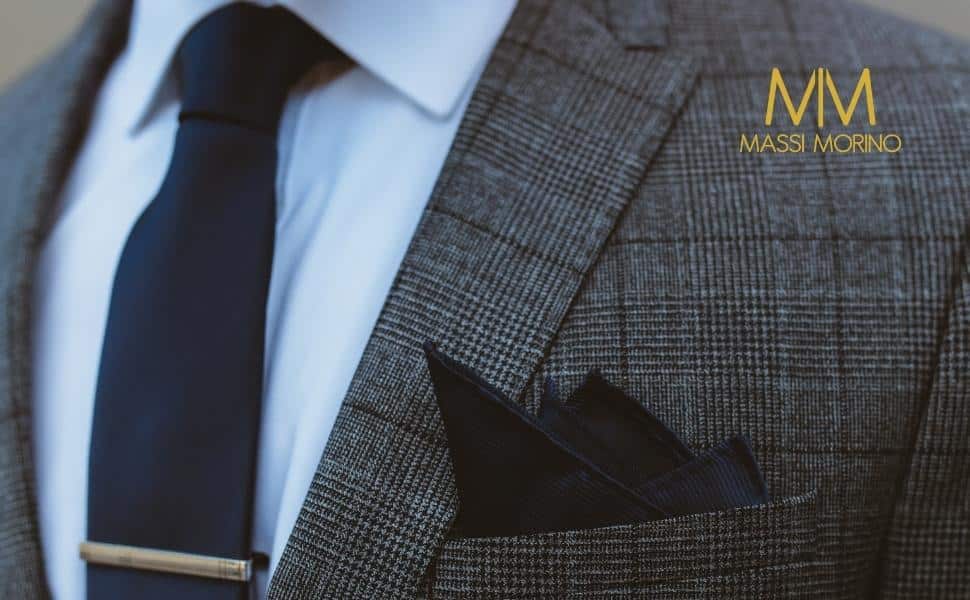 Some wives just can't resist the temptation of getting 50th birthday gifts for husband. If that's the case with you, then think about choosing this stunning set of high-quality ties by Massi Morino. Although it's called a "tie set," the gift box also includes a man's scarf, cufflinks, and, of course, a silver tie pin.
Don't worry even if your husband doesn't know how to use a tie because the set features step-by-step instructions to tie the Windsor knot correctly. And most importantly, it's already wrapped up as a gift!
Cons
Not For Husbands Who Hate Ties
Too Small Package
Pros
Color-Matching Items
Made Of 100% Natural Polyester
Packed In A Gift Box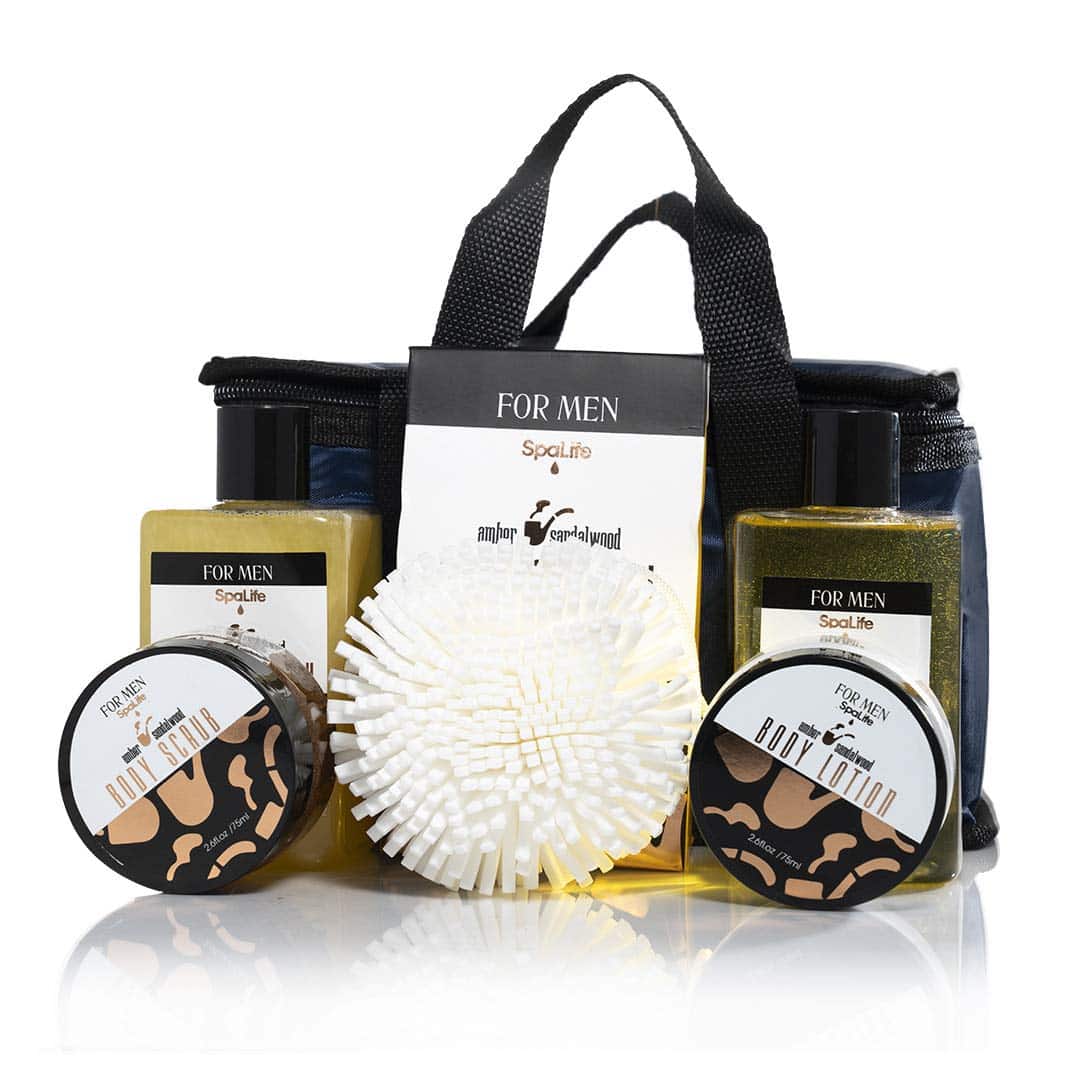 Choosing self-care gifts for husband 50th birthday is always a great idea. It's true that men aren't as keen on beauty and fashion products as women. Still, who doesn't like the idea of getting a luxury bath? That's why you should think about getting him this bath and body luxury spa set.
The 7-piece set is an amazing way for your husband to deal with stressful days. The idea of getting a refreshing shower can be so overwhelming to your husband that he might use it even on his birthday. The gift set includes everything for perfect aromatherapy: shower gel, bubble bath, body lotion, body wash, bath crystals, and a sisal sponge. For extra comfort, everything is already arranged in a suitcase.
Cons
Not Suitable For All Skin Types
He Might Not Like The Specific Scent
Pros
Ideal For A Home Spa Treatment
Consists Of Seven Products
A Low-Budget Gift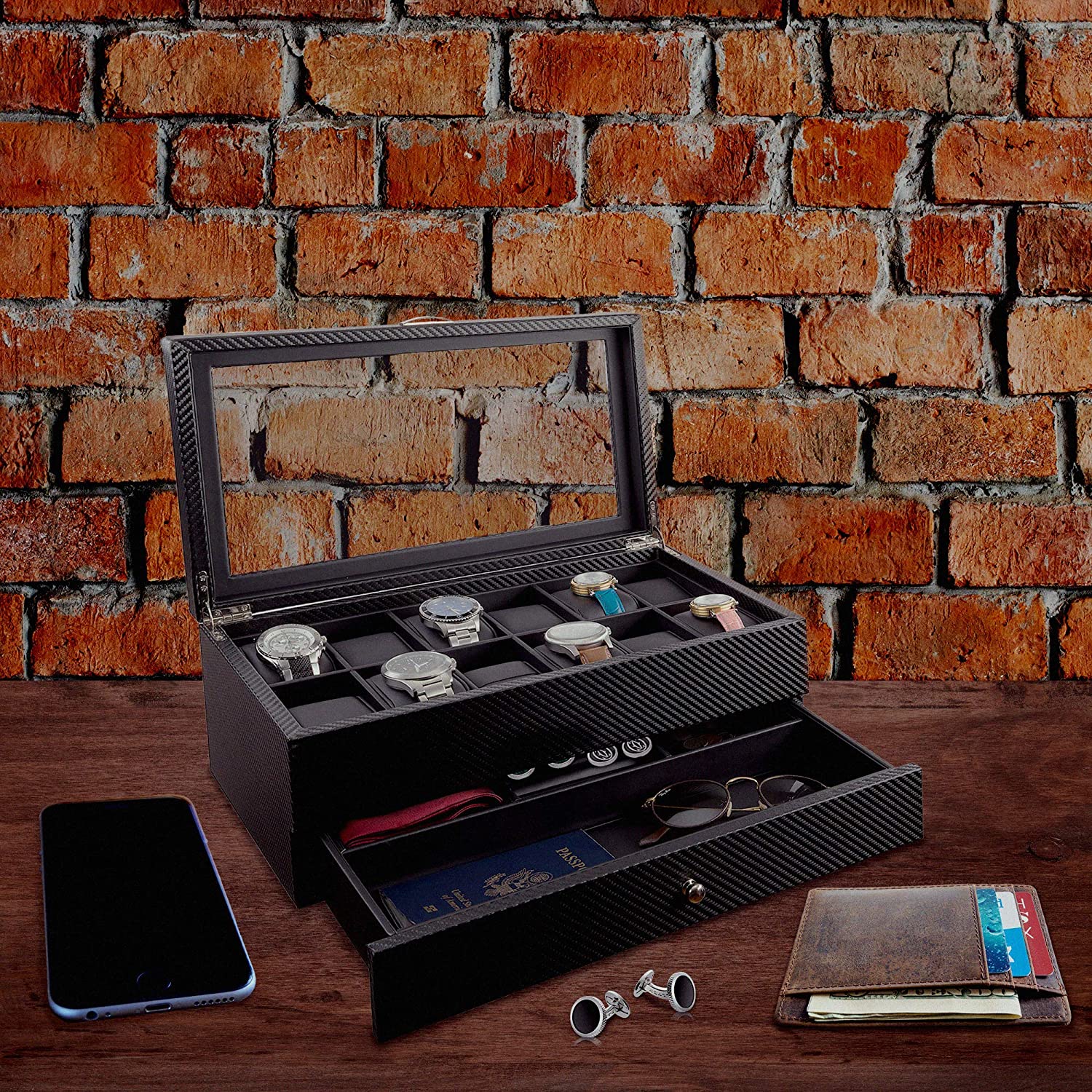 How much does your husband enjoy watches? If the answer is "too much", then you should definitely stop thinking about more 50th birthday gift ideas for husband and get him this particular one. Why? Because this luxurious watch box will give him an opportunity to organize his collection of watches exactly the way he has always dreamt about!
The watch box by Hauterow is both practical and beautiful at the same time. This item will allow your husband to add extra comfort to his daily life and get the luxury he deserves. Even if he doesn't like the idea of using this special gift every day, you can use it as a sophisticated addition to your decor.
Cons
A Bit Overpriced
Adding A Drawer Is Almost Twice Expensive
Pros
Features 12 Watch Slots
Frees Your Watches From The Dust
Luxurious Design
Personalized 50th Birthday Gifts for Husband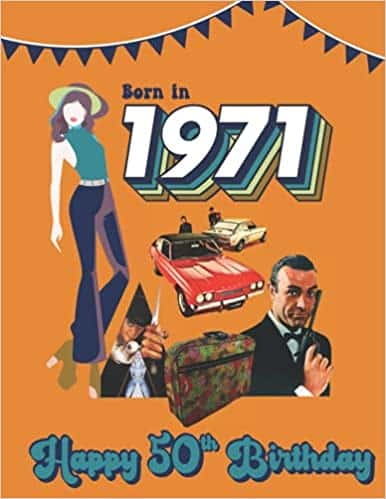 No one doubts that your husband's 50th birthday is a special day for you. In fact, that's why you're looking for the best 50th birthday gifts for husband. However, if your current financial condition makes you step back, consider getting him this personalized book.
"Born in 1971, Happy 50th Birthday" is a small book of interesting facts and memories about pop culture and the history of the year 1971. But wait, can a book that was written by somebody be personalized? In fact, it can be because 1971 is the year your husband was born! However, what truly makes this book a personalized present is the ability to fill the first page with your memories and wishes.
Cons
Only For Husbands Interested In Pop Culture
Available In English Only
Pros
A Low-Budget Gift
The Book Is Published In 2021
Features A Card To Personalize A Gift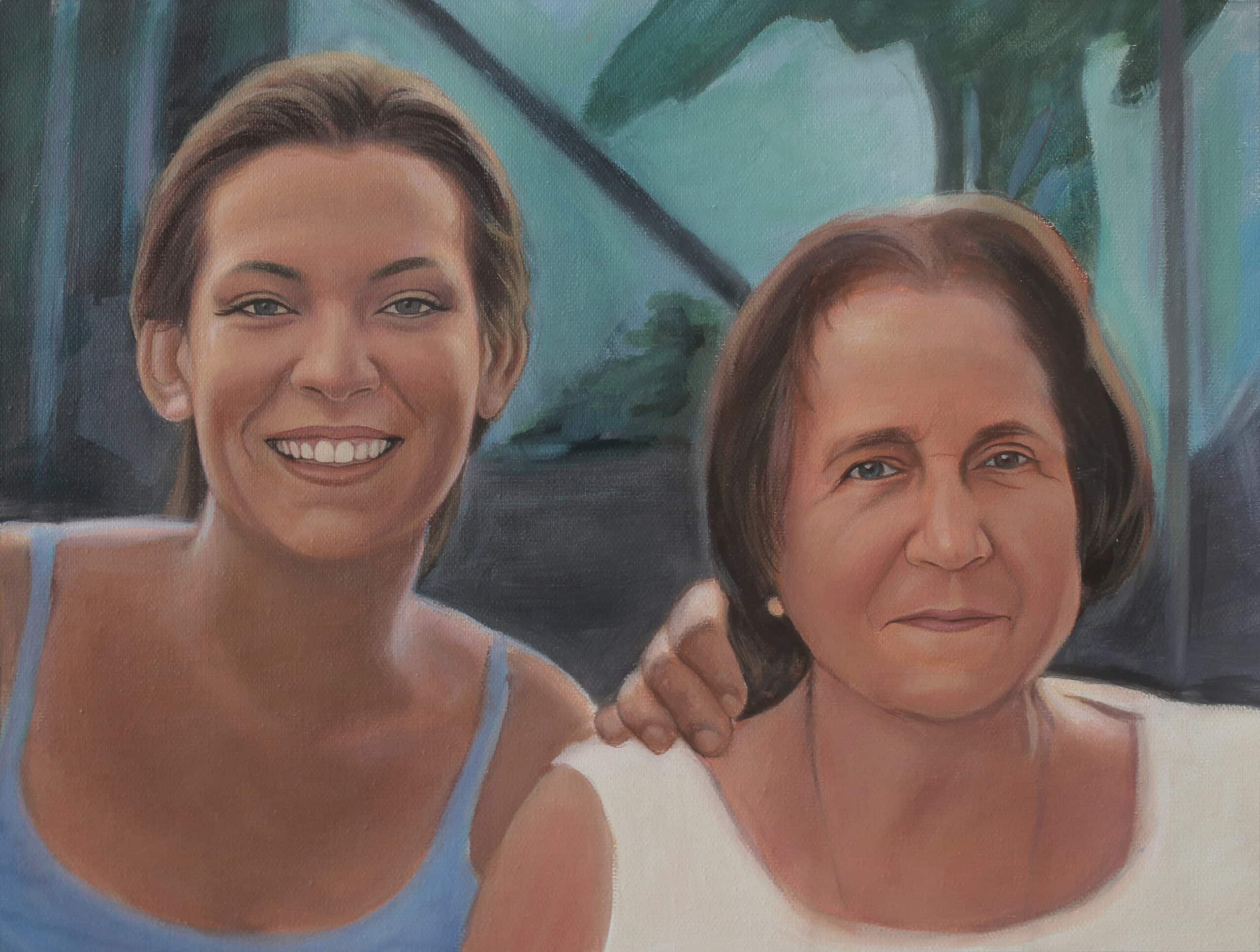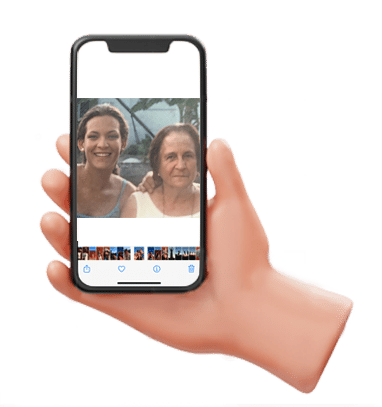 If your husband takes great care of your interior, this custom oil painting from Photo Painting could be the best thing from our list of personalized 50th birthday gifts for husband. Why? Because modern interior designers believe that decorating your house with oil paintings is accompanied by plenty of benefits.
Still, if you don't understand why you should choose oil painting necessarily, there's nothing to worry about. Our professional artists offer an opportunity to turn your pictures into paintings of various mediums (such as acrylic, color pencil, or charcoal paintings). We recommend choosing your and your husband's mutual picture in order to guarantee he never forgets how much you love him.

10% discount has been applied
20% Advance Payment only
Remaining balance to be paid after painting approval
Cons
You Have To Pay 20% In Advance
You Need To Order Some Time Before His Birthday
Pros
You Can Keep An Eye On The Drawing Process
Free Shipping
Various Mediums Are Available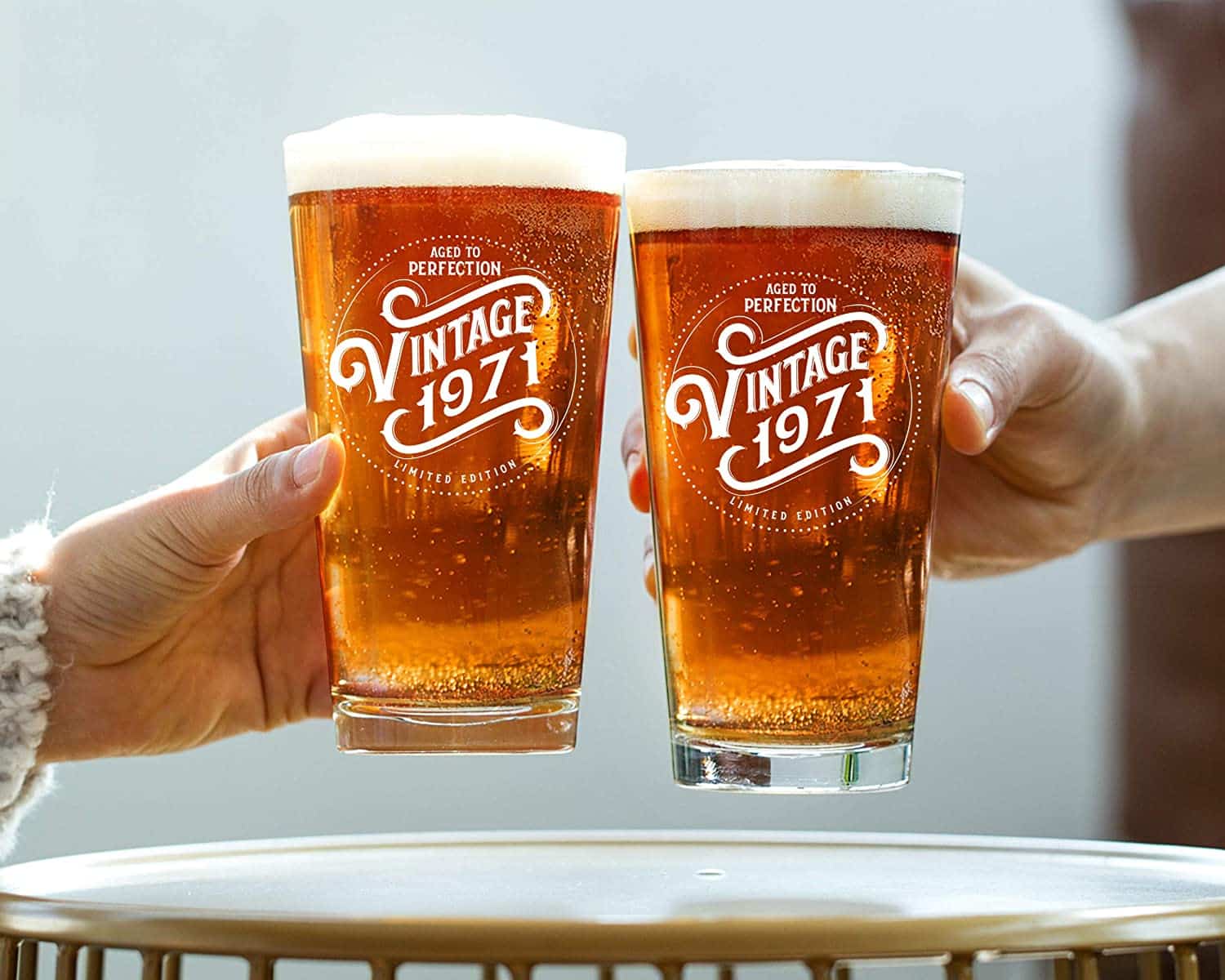 And here's one more opportunity to make your husband feel special on his 50th birthday! The 1971 Vintage Whiskey Glass is one of the most popular 50th birthday gift ideas for husband who likes vintage and beer! Since your husband's milestone year is printed right on the beer mug, this present will probably never get old.
The glass is made of high-quality glass and is dishwasher-safe. We recommend filling the glass with his favorite ale, lager, stout, or whichever beer he prefers. Chances are high that your husband will be surprised to see his birth year on this vintage beer glass. But if beer isn't something he's excited about, you can also get him a 1971 wine glass or stainless steel tumbler.
Pros
Individually Gift Boxed
Three Types Of Capacities Are Available
Dishwasher Safe
Our Verdict
Now as you already reviewed the best 50th birthday gifts for husband, we hope that you already know how to celebrate your husband's new milestone. Even though all of these presents look quite attractive, try to consider the pros and cons and choose the most suitable present for your husband to turn his 50th birthday into an unforgettable memory!
Table of Content
Memorable 50th Birthday Gift Ideas for Husband

1

Handmade Men's Leather Bracelet

2

Customized Individual Portrait

3

Leather Bookbound

Luxury Gifts for Husband 50th Birthday

4

Wireless Charger Stand

5

Lacquer Rollerball Pen

6

Smart Wireless Meat Thermometer

Fitness 50th Birthday Gift Ideas for Husband

7

Massage Gun for Athletes

8

Lightweight Packable Foldable Rucksack

9

Smart Watch

Self-care & Fashion 50th Birthday Gift Ideas for Husband

10

Massi Morino Ties for Men

11

Bath and Body Luxury Spa

12

Mens' Watch Box Case Organizer

Personalized 50th Birthday Gifts for Husband

13

"Born in 1971, Happy 50th Birthday"

14

Custom Oil Painting

15

1971 Vintage Beer Glass
Subscribe & get exclusive deals
See Also..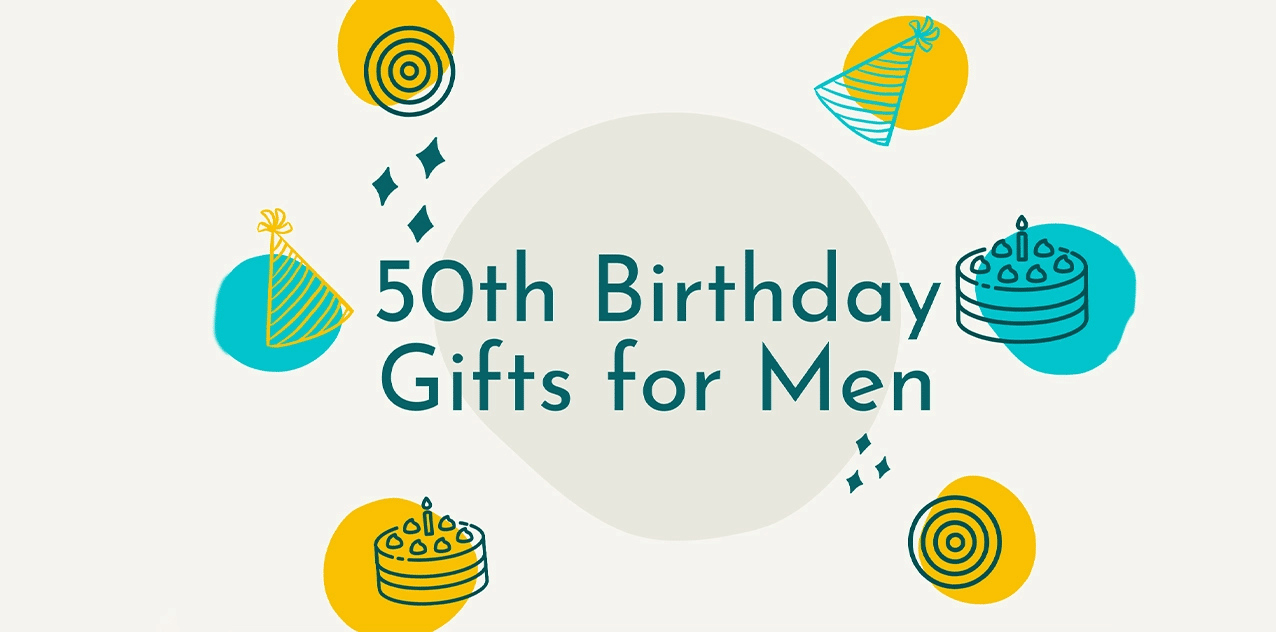 50th Birthday Gifts for Men – Splendid Ideas to Surprise Him
Making the right decision regarding 50th birthday gifts for men is never easy. Why? Because turning 50 is a lifetime event, he hasn't experienced anything like this ever before. Neither will he in the future. The reason is that 50 is the beginning of a completely new chapter in his life. It's a special milestone that deserves even more special presents. Considering this, nobody will be surprised if you're looking for the best 50th birthday gifts for men. But what if you have trouble choosing the right gift? Maybe you can't identify his interests or don't know him as well as you need in order to generate creative ideas for 50th birthday gifts men. Even if you've known him for ages, having difficulties picking the proper gift for your loved ones is absolutely normal.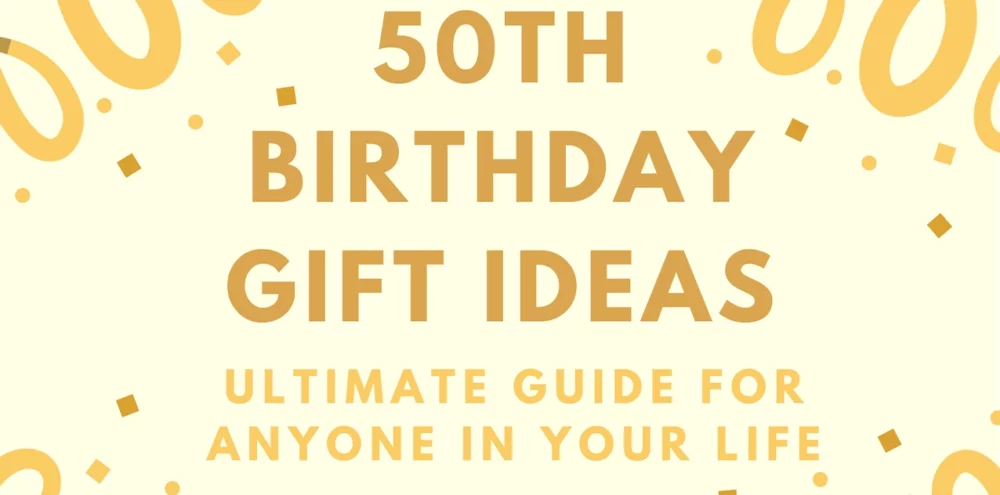 50th Birthday Gift Ideas – Ultimate Guide For Anyone In Your Life
If your loved one is turning 50, chances are high you're trying to look for the most unique, memorable, and special 50th birthday gift ideas that they will never forget. And if you haven't yet sorted out your ideas to get them more creative presents than they could have ever imagined, then you're at the right place!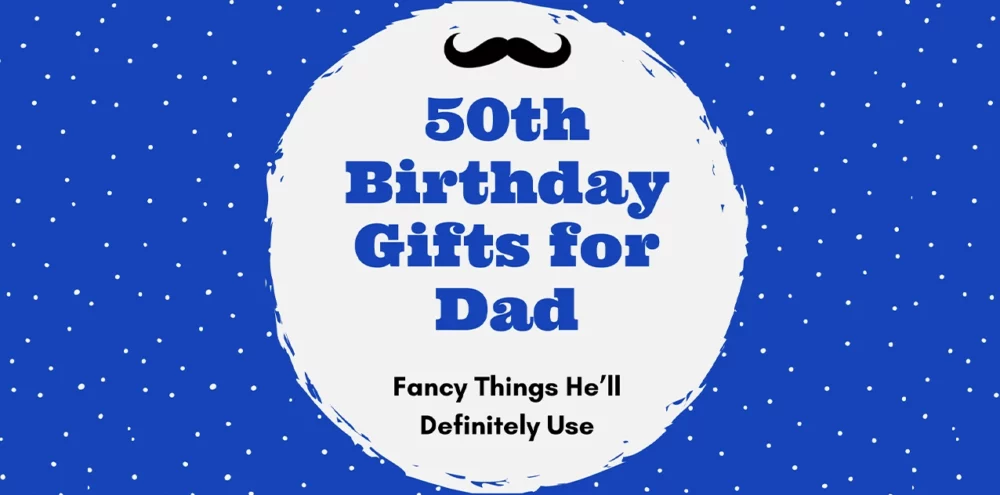 50th Birthday Gifts for Dad – Fancy Things He'll Definitely Use
No matter how much you love your dad, choosing special 50th birthday gifts for dad isn't an easy task. Why? The reasons vary. First of all, your dad doesn't turn 50 every day. It's a completely new milestone that deserves a unique celebration. But also, regardless of age, daughters always want to express their gratitude by getting their fathers heartwarming presents. No one doubts the importance of father-daughter relationships. But what if you already bought him everything you could have possibly thought of? What if your dad already has everything he ever wanted? Or maybe he doesn't even like receiving gifts and asked you not to do so. If that's the case, you might be facing the dilemma of expressing your love and strengthening your bond on your dad's 50th birthday. And that's why we handpicked the 14 most memorable 50th birthday gifts for dad from daughter that will please any dad in the world!